Your Room
Green Key
We care about nature
We are proud to inform you that Van der Valk Hotel Nuland - 's-Hertogenbosch is in possession of the Green Key Certification Gold. The Green Key is the international sustainability hallmark for companies in the tourism and recreation industry, and in the market for meeting and conference locations, that are serious and verifiable about Corporate Social Responsibility (CSR).
Staying longer than one night? Then you can choose not to have your room cleaned daily. If you wish to make use of this option, please let us know at the reception before 8:00 in the morning. As a thank you you will receive a voucher of € 2.50 which you can exchange in our restaurant.
If you would like your room to be cleaned, but you would like to contribute to relieving the environment, you can leave your towel on the towel rack. In that case we will not replace it and you have the possibility to use it again.
Minibar
Would you like the minibar in your room filled? Order our minibar package via the reception for only €20,00 and we will gladly deliver it to your room:
1x red wine 0,2L
1x white wine 0,2l
2x Bavaria beer 0.3l
2x soft drinks 0.3l
Pringles
Duijvis nuts
M&M's
Climate Control & Heating
Below you will find instructions for the climate control in our comfort rooms. You will also find a radiator in the bathroom or under the window in most rooms.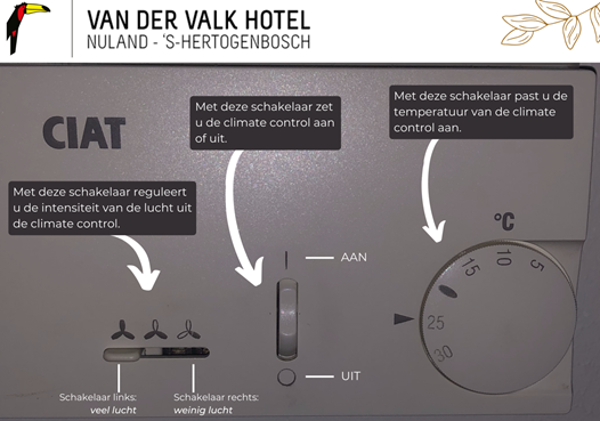 Should your control panel look different or not function properly, we kindly invite you to contact our reception desk for further assistance.
Smoking
All our rooms are non-smoking rooms. Cleaning costs will be charged if it is found that one has been smoking in his or her room.
Internet
Van der Valk Hotel Nuland - 's-Hertogenbosch offers every guest free wireless internet. You connect to the Guest-Valk-Nuland network. After this, a login page appears automatically where you can accept our conditions.
Laundry Service
Van der Valk Hotel Nuland - 's-Hertogenbosch offers its guests a laundry service in cooperation with Van Hal Stomerij. To make use of this service we kindly ask you to fill in the laundry form that is in your closet and hand it in together with your laundry no later than 8:00am.
Laundry is normally collected/returned on Mondays, Wednesdays & Fridays. In consultation with our reception a faster service is often possible.
Van der Valk Hotel Nuland - 's-Hertogenbosch accepts no liability for lost or damaged garments. Use of this service is at your own risk. There is no laundry service during weekends and on holidays.
Iron and ironing board
Iron and ironing board are available for loan. You may contact one of your friendly Housekeeping staff via the reception for this service.